In this tough economy, an internship is more than a resume builder, it's a critical step between college and the workplace.
Did you know...
Our interns have worked at the White House, the Smithsonian Institution, the Children's Defense Fund, and more!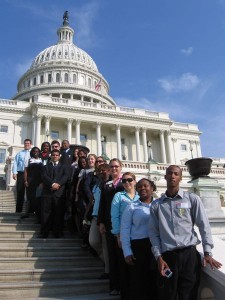 Like their peers, foster youth should have the opportunity to take this step. Too often, however, internships are unpaid and foster youth cannot afford to work without pay. This is where Foster Care to Success' (FC2S) InternAmerica program comes in.
We place our students in prestigious internships around the country and provide the assistance they need to participate. We also bring 24 students to Washington each summer, offering them not only transportation, housing and a stipend but the professional and cultural experiences unique to our nation's capital.
But we can't do it without your help. By donating to general support you can help us maintain and grow the InternAmerica program so that we can offer more career-building internships to more deserving young people.
Here's what others have had to say about working with our interns:
Office of Congressman Robert Aderholt (R-AL):
"Kayla is an exceptional intern for our office. She always puts one hundred percent effort into every task she undertakes and approaches each one with a wonderful attitude. Kayla is a very intelligent, compassionate, and dedicated individual and she has been an asset to our office in the short time that she has been here. I am proud to have her working with me." – Stephanie Brown, Administrative Director
The American Bar Association's Center on Children and the Law:
"Lily was outstanding in her attitude, earning the respect of other staff members. She was a favorite among the staff. She was continually positive in her approach to her work and life in general….She was a stand-out among our interns as someone who cared about others and went out of her way for them and in her interactions with staff." – Eva Klain, Director, Child and Adolescent Health
Competitive Internships: Hard to Come by for Many Foster Youth
Foster Care to Success created the InternAmerica Program to provide our students with in-depth exposure to the workplace, soft skills training, and networking opportunities – experiences that enable them to be competitive in today's tight job market.
Often, the best internships go to children of family, friends and associates, InternAmerica levels the playing field for foster youth who may not have the community contacts to recommend them for these positions.
According to recent statistics, nearly 60 percent of interns are offered full-time paid positions by the companies they work for. For many foster youth, it's simply a matter of getting their foot in the door.
Through InternAmerica, we give foster youth the same opportunity as their peers. Our many coveted internships are not only unpaid but include the sometimes hefty expenses for travel, housing and meals – costs that are usually covered by parents.
Since 1994, FC2S has brought hundreds of students to Washington, DC and helped hundreds of others across the country launch their careers through InternAmerica. Our interns have worked at the White House, the Smithsonian Institution, the Children's Defense Fund, the Office of the United Nations High Commissioner for Refugees, and on Capitol Hill. They have also worked at the Siemens Corporation, Burston-Marstellar, Hyatt Hotels, the Washington Hospital Center, Alliant Credit Union, the American Bar Association and Morgan Stanley.
Offer an Internship: Your company, business or NGO can find a talented intern through InternAmerica. Learn more or click here to contact us.