Each year, FC2S connects hundreds of sponsors like you to college-bound youth aging out of foster care – giving you the opportunity to help fund a foster youth's education.
The Need
Nationally, statistics reveal that only between 3 and 10 percent of foster youth graduate from college.
Why?
Insufficient support, lack of appropriate guidance and financial need.
Foster Care to Success (FC2S) is helping foster youth beat the odds through our Sponsored Scholarship Program. The program's web of services provide the guidance, support and funding our students need to not only survive, but thrive in college.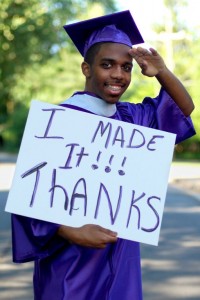 The Results
61 percent of FC2S Scholars graduate within five years – a rate higher than the national average for all students.
How does the Sponsored Scholarship Program work?
The Sponsored Scholarship Program funds tuition and certain approved living expenses for students at community colleges, public and private universities and career programs all across the country.
Organizations and corporations can invest in our country's future by underwriting scholarships through the Foster Care to Success Foundation.
Learn more about how
YOU
can sponsor a student today!
What else do scholars receive?
Every FC2S Sponsored Scholar receives the support they need to do well in school and graduate, including personal support from the FC2S Scholarship Team; academic and career coaching; three care packages a year; and the opportunity to apply for our Aim Higher Fellows Program.
Who can I contact for more information?
For more information on the Sponsored Scholarship Program, contact our Scholarships and Grants team.