Did you know...
Our work has been acknowledged by Congress, the Department of Health and Human Services, and every White House Administration since that of George Bush, Sr. in 1989.
Our InternAmerica Program connects students with prestigious internships across the country, and our Care Package Program sends foster youth the tangible support that they often lack. These programs wouldn't exist without the generous participation not only of individuals, but of corporations, nonprofits, NGOs and other community-minded organizations.
Organizational generosity is critical to our students' success, but it's a two-way street. The benefits to your organization can be enormous as well — volunteerism and community activism promote employee satisfaction; your company's support of education for this vulnerable population elicits public good will; and your concern for foster youth can earn their later loyalty as consumers.
Contact us

to get your organization involved today!
A History of Powerful Partnerships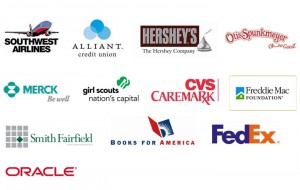 Our long list of established sponsors, from FedEx to Oracle attests to the incredible partnerships we've built on behalf of foster youth. Whether it be in the form of a summer internship or a donation of thousands of Otis
Spunkmeyer cookies generously contributed to our college care packages, together with partners like you we provide foster youth with solid resources and consistent encouragement.
Sponsor our Care Packages
The FC2S Care Package Program is an opportunity for organizations to make a contribution that will be remembered for a lifetime. We rely on businesses and charitable organizations to donate the items that fill our student care packages. We couldn't send 7,500 care packages annually without these in-kind contributions, which range from school supplies to snacks, from T-shirts to posters, and from personal care items to software and toys like Frisbees, Hackey Sacks and yo-yos. Gift cards to national chains are another very popular item, because students can use them to choose their own dorm supplies, books, groceries and other needed items.
There are many ways for your organization to get involved in our Care Package Program. You can:
•  Contribute 500 or more of any one item to include in the packages.
•  Host a workplace charitable drive – collect gift cards or contributions along with signed notes of support and encouragement for students.
• Help underwrite program expenses with a donation.
Offer an Internship: InternAmerica
In the 21st century economy, an internship is a critical step between college and the workplace. According to the most recent research, three-quarters of employers see internships as the pipeline to full-time salaried positions. Foster youth may not have the personal connections or resources to obtain internships, but they deserve the same opportunities as their peers.
FC2S places students in prestigious internships around the country and provides the assistance they need to participate. We also bring 24 students to Washington DC each summer. These InternAmerica DC students receive transportation to and from their internship, housing on a college campus, and a stipend for living expenses. They also actively participate in the cultural, professional and political events that make an internship in our nation's capital a unique experience.
This is where you come in. Partner with FC2S to find a talented, enthusiastic intern for your company, business or NGO. So many others already have, including the White House, the Smithsonian Institution, the Children's Defense Fund, the Metropolitan Washington Council of Governments, the Office of the United Nations High Commissioner for Refugees, and numerous members of Congress. Our interns have also worked at the Siemens Corporation, Hyatt Hotels, the Washington Hospital Center and Alliant Credit Union among many more.