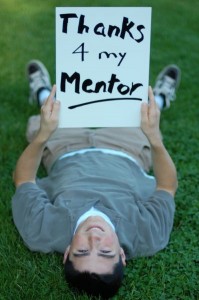 Foster Care to Success (FC2S) has always known that young people need the support of caring adults in order to thrive.
We have been mentoring students since 1981, first through the U.S. mail and then through a state-of-the-art web portal. Today, our Academic Success Program matches student participants with trained volunteer coaches like you – coaches who take an active interest in their lives and their education and can communicate with them via telephone, text messaging, Facebook, email and Skype.
Why mentor foster youth? 
College-bound foster youth are often uniquely disadvantaged. Not only are many of them the first in their families to graduate from high school (let alone start college) but their history of frequent moves and attending multiple schools may leave them ill-prepared for the rigor of college-level work. What's more, they may be completely alone, without any connections to caring adults. Who do they ask about proper interview attire?  Who will tell them that it's probably not a good idea to take four  8:00 a.m. classes?  Who will celebrate an 'A' with them?
How about you?
How does the Academic Success Program work?
The Academic Success Program partners the dedication of trained, supported volunteer coaches with the resources of FC2S's experienced staff to provide students with the encouragement and guidance they need to do well academically and personally.
Coaches make a one-year commitment to support one to four students (depending on need of the organization) with at least weekly communication. Most coaches start off with one or two students. Coaches generally dedicate from one to three hours a week to the Academic Success Program.
In order to be a coach, you must be 25 or older, complete an initial application and interview, pass a background check, and participate in comprehensive online training.  Once you are matched with students, you submit online reports twice a month.
Foster Care to Success (FC2S) has always known that young people need the support of caring adults in order to thrive.

Our coach roster is full for the 2014-15 school year.   However, if you're interested in being contacted in the summer for the 2015-16 school  year,  drop us a line and we'll put you on our list.

Students were recently asked what they learned from the Academic Success Program.  Here are a few of their answers:
"What I learned from my coach is communication skills. I learned how to keep in touch, which teaches me how to network." – Alisha C.

"It's OK to make a mistake – just make sure that I try not to make it again and that I learn from the mistakes I made." – Brittany W.

"I learned that before I say the first thing that comes to mind, suck on a lifesaver. That keeps my mouth too busy to talk." – Morgan P.