Three years ago Tremale Berger stood confidently in front of a crowd. He looked out at the gathering of around 40 young men, certain his eloquently prepared speech would compel the youth to action.
A sea of wide, expecting eyes rested on Tremale, and as he scanned the room and looked into the eyes of each and every young man there, suddenly his confidence shifted. Tremale could see the needs and desires anxiously pleading through each youth's gaze, and in that moment, he knew that whatever he said next would leave a lasting impact on the young men.
"I told them that we're here to help you do what you want," Tremale said. "The foundation of our program is us helping the young men discover and do what they want, not us telling them what they should want and do. We focus on what their interests are."
Today, the Gentlemen's Agenda Foundation (GAF) continues to focus on the interests of young men by helping them discover their passion so each youth can ultimately be fashioned into a gentleman. The foundation challenges the common perception of a gentleman as just a male who opens car doors and is polite. GAF defines a gentleman "as one who possesses the passion to consistently better himself and those around him. At his core, a gentleman is one who possesses a lifelong curiosity to refine and advance himself in every area of life."
Helping each youth understand his passion is a major step on the road to becoming a true gentleman, the former FC2S student explained.
"Passion is really a catalyst for someone who carries himself as a gentleman."-Tremale said.
Passion is also what led Tremale and three other males to create the GAF in 2012. After getting connected through mutual friendships, the four men got to know one another and soon not only discovered a mutual appreciation for carrying themselves as gentleman, but each one realized the lack of education around this subject.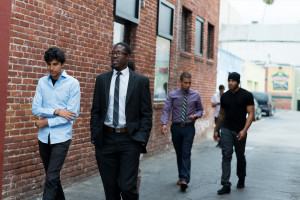 "In today's society, [young men] didn't have the frame of reference for the how the gentleman lifestyle could fundamentally alter their life," Tremale said.
He and his friends created the GAF as a way to help young men in their community live a life of passion. Headquartered in Pasadena, California, the GAF currently serves high-school age young men through two key initiatives: the Passion Academy and the Youth Ambassadors Program.
What is the Passion Academy?
The Passion Academy is a 16-week program where young men from the Pasadena community not only discover their passion and interests, but learn ways to use them to enhance their future.
Each Saturday, facilitators work intensively with youth to help them look inside themselves, discover who they are and what they enjoy. The young men collaborate and use each other's various interests and skills to create a team project. They also work with consultants to take further action on their passions.
Lucas Fraizer is Associate Director of Youth Initiatives for the Foundation. He said each semester of the Academy is dictated by what the students give facilitators, which has worked well as students decide what they want to create."Every session gets better. It is as if they know what we want before we even come to realize it." Malik Kindle — GAF Ambassador
"Every session gets better. It is as if they know what we want before we even come to realize it." Malik Kindle — GAF Ambassador
The GAF has also introduced workshops where facilitators teach young men more refined aspects of the gentleman lifestyle, such as how to pick out a suit and get it tailored.
At the end of each semester, students receive tailored suits to help them continue presenting themselves as gentlemen.
The Passion Academy is currently in its sixth semester and has graduated around 50 young men from the program.
Youth Ambassadors
The GAF has a second imitative, Youth Ambassadors, which allows selected students to act as representatives for the Foundation and recruit other males. This helps Academy alumni uphold the Foundation's mission as the young men consistently better their communities. Lucas said this simple message of service has a universal effect.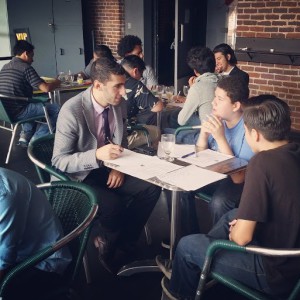 "You can take the traits of a gentleman and ascribe them to men, women and all humanity," he said. "If everyone lived that way where we all strived to better ourselves and those around us how different the world would be that we live in."
What's Next for GAF?
Tremale, Lucas and all of the GAF team have been thrilled to see the Foundation's continuous success as different young men open up and seek to refine themselves in ways they haven't previously thought about.
The GAF team has many goals for 2015, including expanding its reach by opening a second chapter in the Los Angeles area.
The organization has also begun creating relationships with colleges to give students the opportunity to receive credit for volunteering as facilitators in the Passion Academy.
Perhaps one of the biggest goals for the GAF is to turn its recruitment events into large showcases for the community. The Foundation hopes to showcase the young men's ideas to receive community wide support.
"Young men have important voices and their ideas matter," Tremale said. "This will help young men take back ownership of their lives and what they want to do."
Are you a high school age male seeking to uncover your passion? Learn how to join the GAF here!