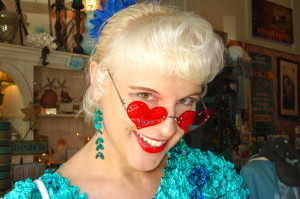 I will never forget the first time I saw foster youth advocate Lisa Dickson.  It was at a  conference seven or eight years ago, and – truly! – across a crowded room she shone like a star, surrounded by chattering, laughing teenagers.  With her platinum ringlets cascading and her Taylor Swift red lipstick, she sparkled and entranced.
Lisa, who aged out of the foster care system before youth advocacy or self empowerment were even words in our vocabulary, was a self-empowered youth advocate out of the gate.  Within two years of leaving the system she had visited every group home and facility she had ever lived in, encouraging young people to believe in themselves and follow their dreams.
Lisa received her Master's Degree in Library Science from the University of Kentucky, and she is happily married with two beloved daughters.
Foster youth were never far from her mind, however.  As she says, "not everyone from my generation survived."  In 2006 Lisa found her true calling as a volunteer with the newly-founded Ohio chapter of Foster Care Alumni of America (FCAA-Ohio) and the Overcoming Hurdles in Ohio (OHIO) Youth Advisory Board.  In 2007, she helped to launch a new foster youth higher education initiative, Ohio Reach. (NOTE:  Ohio foster youth can also visit the Ohio ETV Program for information on higher education grants and support.)
These three organizations give enormous support, encouragement and hope to Ohio's foster youth.  Working through them, Lisa has trained foster parents and caseworkers, facilitated independent living classes and state independent living summits for teens, and even hosted family-style Thanksgiving dinners for foster teens and alumni across the state.  As Communications Chair for both Ohio-FCAA and Ohio Reach, she sends out regular communication and coordinates website development and maintenance.  And, of course, she is a fixture at meetings, events and conferences across the state of Ohio – few active youth do not grin at the mention of her name.
Lisa was recently asked what she would tell all foster youth, if she could shout it out to the world.  This is what she replied:
I would tell them that the past is not forever, and that there is – there really IS – a bright future ahead. We just have to work for it. Maybe we have to work harder than others, but it's the very journey that makes us strong.
I would tell them that there is life beyond just day-to-day survival. The important thing is to look beyond this present moment and keep holding out for the future. If they call out for help and get a dial tone, please just keep on calling and keep on reaching out. If the day looks dark today, it will be brighter in the morning – I promise – just don't give up.
The very losses we've experienced have made us so very strong…. We just can't let them make us hard and bitter. It takes courage to continue to reach out and to love – but the result is this fierce and fearless joy in knowing everything that we have survived. 
Also, I would want them to know the truth: that we can accomplish much more working together than we can alone.
Lisa has received accolades from the field, including the 2012 Public Children Services Agencies of Ohio (PCSAO) Child Advocate of the Year Award, the 2012 Ohio CASA Child Advocate of the Year Award and the 2009 FCAA Volunteer of the Year Award.  But her greatest sense of achievement comes when a foster youth tells her, "Thanks – I couldn't have done it without you."