Kayla Becker: Aim Higher Brings Great Rewards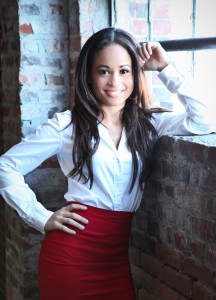 Kayla Becker is interning thru our Aim Higher Fellowship program at the American Bar Association's Center on Children and the Law, where she's gone from being disinterested to down with politics. Why the change of heart? Her story is below.
"Japanese food – my favorite. I wonder if there will be any good Japanese food in Washington, DC…". I was opening my fortune cookie while talking with my aunt the night before FC2S' Aim Higher program would take me from Alabama to a city much larger than any I was accustomed to.

"Traveling to the East will bring you great rewards," the fortune cookie read.

Still, I was having reservations. I couldn't stop associating DC with the word 'politics'. Not something I have ever been too interested in.

I am a mass communications major. People always ask me if I'd like to be a news reporter/anchor. My answer: "Heck No!". My dream was always to own my own talk show. And, through a lot of hard work and support, I finally have one. The topics cover everything EXCEPT politics.

Entertainment, sports, fashion, health…I get those things. So when I was informed that I would be interning at the American Bar Association, I couldn't stop thinking about how unfit I would be for the position. Spending my day around a bunch of lawyers, judges and policy types – not my ideal.

I walked in the first day with my palms wet and a headache coming on. My heart was racing. I was nervous about what I had gotten myself into. I waited in the lobby to meet my supervisor. I had already decided what she would look like, how she would dress, and what she would sound like. I pictured a tall, burly woman in a baggy business suit storming in, quickly grabbing my hand, and in a deep, demanding voice saying, "Let's get to work." So when a tiny, cute and timid lady walked in with a friendly smile, I became a little more at ease.

She showed me around the maze of a building before sitting me down in her office to discuss my responsibilities. At this point, I couldn't think of anything valuable that I could offer to the organization. I figured I would be filing, printing and performing only the most basic tasks.

And then my spirits were lifted and my heart began pacing for a whole new reason – excitement.

I would be the media intern for the American Bar Association's Center on Children and the Law!  I would develop a video series to educate the public on the importance of permanency, safety and well-being for children within the foster system! I would tape and edit footage that would go on the website. I would even interview experts. Could my job be any more perfect? These are things that I know and love!

The internship is only halfway through now and already I've learned something about myself. I find politics and laws and bills and all that stuff I had always dodged to be actually…well, interesting. Weird right? My internship has helped me see how these things personally impacted my life and are impacting the lives of other foster youth on a day-to-day basis.

I guess that fortune cookie wasn't too far off the mark.
Check out Kayla's online series for the ABA's Center on Children and Law.