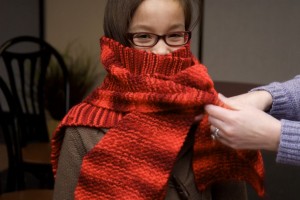 Little things make a big difference in the life of a college student, and sometimes they make ALL the difference. From getting a handmade scarf on Valentine's Day, to help paying for car repairs or replacing broken eyeglasses, to receiving a check in the mail that says, "for books and school supplies" – FC2S and our supporters make a student's day, every day. Through the Red Scarf Project and Red Scarf Emergency Fund we are able to immediately furnish students with the resources they need to stay in school.
The Red Scarf Project
Do you love to knit or crochet? Whether you are a beginner, an expert, or somewhere in between, your handiwork can send warmth and encouragement to a foster student! The handmade red scarves in each of our Valentine's Day care packages become treasured keepsakes that our students wear for years. The Red Scarf Project offers a unique opportunity to use your creativity to give a truly personal gift to one student as he or she moves forward to graduation and a brighter future.
NOTE: Scarves are accepted between September 1 and December 15 annually.  As we have limited storage space, please send your scarves only during this time period.
Click here for red scarf knitting/crocheting guidelines.
Your hands are a window into your heart and soul. There is a piece of yourself in every project you make; there is love in every stitch, and a handmade scarf is like a hug. Foster Care to Success' Red Scarf Project gives us each an opportunity to show that someone out there, even a stranger, truly cares about our foster youth. - Master Knitter" Lily Chin, Red Scarf Project spokesperson
The Red Scarf Project is endorsed by Interweave Knits, The National Needle Arts Association, and the Lily Chin Signature Collection.
The Red Scarf Emergency Fund
A Red Scarf Emergency Fund donation in any amount can directly impact a student's ability to stay in school.
School is hard enough without having to worry about paying unexpected bills or coping with emergencies. What if you were a student who couldn't get to school because of bald tires? What if you had a hacking cough but couldn't afford medicine and missed several classes? What if the babysitter suddenly raised her rates?
For some students, scenarios like this are all too real. FC2S started the Red Scarf Emergency Fund to help them stay in school despite the types of emergencies that could otherwise derail their progress. Red scarf funds are allocated to students for emergency medical expenses, transportation costs, rent, and even groceries or clothing when they have no other way to pay.
❤   ❤ Foster Care to Success gratefully thanks the thousands of knitters and crocheters worldwide who make our Red Scarf Project such a success. Since the first Valentine's Day care packages were mailed in 2005, we have delivered over 20,000 red scarves to foster youth in colleges and training programs across the country. Thanks especially to the support of Now Norma Knits and other online needle-arts communities. Every year we are awed by the works of art that are so generously created for our students. ❤   ❤