Cards and cookies from home are important to college students. Sadly, few foster youth receive them.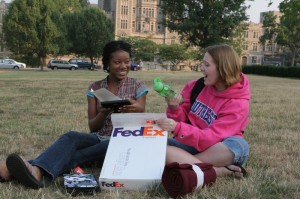 That's why Foster Care to Success developed the Care Package Program. Each school year, our students receive two care packages to help them feel just like their college peers. Opening a box stuffed with goodies, having something to share with their friends or roommates, and realizing someone is thinking of them, are just some of the ways our students feel supported by the Care Package Program.
"I have learned to keep my head up and work harder and harder each day to get where I need to be. Care packages from FC2S make a bigger difference than you can imagine, because they show me you're behind me all the way." Tyrone G., University of Mississippi
$100 provides a care package for one special student.

The Care Package Program is an opportunity to give a little that means a lot. FC2S relies on businesses and charitable organizations to donate the items that fill the 7,500 care packages we send every year.
Is your organization ready to get involved? Here's how:
Contribute items (500 minimum of each item)

School supplies
Snacks
Motivational items or keepsakes
Health and personal care items
Small toys or electronics
Gift cards to national chains

Host a workplace charitable giving drive – collect gift cards or contributions from employees with signed notes of support and encouragement for students
Help underwrite program expenses with a 100% tax deductible donation
Contact info@fc2success.org for more information on how your organization can participate.
"Partnering with Foster Care to Success turned out to be in incredibly meaningful team building exercise for our staff. Everyone learned something about the challenges foster youth face. And everyone felt good knowing that a student – perhaps one who had never received a care package before in his or her life – would soon be receiving one in the mail." Dave Horton, Global Head of Hilton Hotels & Resorts
The Red Scarf Project
Do you like to knit or crochet? Whether you are a beginner, an expert or somewhere in between, your handiwork can send warmth and encouragement to a student from foster care. The handmade red scarves in our Valentine's Day care packages become treasured keepsakes that our students wear for years.
"Your hands are a window into your heart and soul. There is love in every stitch, and a handmade scarf is like a hug. The FC2S Red Scarf Project gives us each an opportunity to show that someone out there truly cares about our foster youth." Lily Chin, Master Knitter
CLICK HERE for red scarf guidelines and patterns, and contact info@fc2success.org with questions.
Scarves are accepted between September 1 and December 15 annually. As we have limited storage space, please send your scarves only during this time period.
Foster Care to Success gratefully thanks the thousands of knitters and crocheters worldwide who make our Red Scarf Project such a success. Since the first Valentine's Day care packages were mailed in 2005, we have delivered over 25,000 red scarves to foster youth in colleges and training programs across the country. Thanks especially to the support of online needle-arts communities such as Now Norma Knits and Knitspot, every year we are awed by the works of art that are so generously created for our students.
The Red Scarf Project is endorsed by Interweave Knits and The National Needle Arts Association.