Three times a year, students all across the country receive special boxes from Foster Care to Success.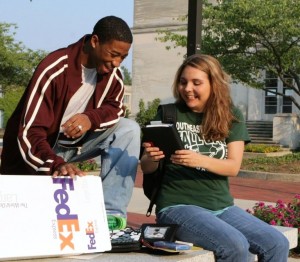 Cards and cookies from home mean a lot to students; however, few foster youth get them. That's why Foster Care to Success created the Care Package Program. Every school year, we send our students three care packages to help them feel as appreciated and valued as their peers.
We rely on businesses and charitable organizations to donate the items that fill our care packages.  Sponsors give items including:
School supplies

Snacks
Motivational items
Personal care items
Toys like Frisbees, Hackey Sacks and yo-yos
Gift cards to national chains
Find out more about how you or your organization can donate to the Care Package Program.
The 7,500 care packages that we send annually are a direct result of donations from sponsors like you and have a significant impact on our student's lives and well-being.
And the giving doesn't stop there – we send hundreds of additional items annually thanks to the generosity of book clubs, neighbors, student organizations and other groups involved in care package projects.
"Partnering with Foster Care to Success to host a care-package-filling event turned out to be an incredibly meaningful team building exercise for our staff. Everyone left having learned something about the challenges foster youth face. And at the end of the day, everyone felt good knowing a student – perhaps one who had never received a care package before in his or her life – would soon be receiving one of their care packages in the mail." - Dave Horton,  Global Head of Hilton Hotels & Resorts
"Around Valentine's Day my friends were all getting care packages from their parents. I was kind of bummed out thinking I wouldn't be getting anything, but then your package arrived in the mail. There were tons of useful items, a beautiful red scarf that was perfect for the winter, and a handwritten note telling me how much I was loved. I almost cried when I read the note. And of course, I showed off the package to all of my friends! " – Vanessa M., University of North Carolina