2015 Aim Higher Fellows & FC2S Partners Honored During Summer Celebration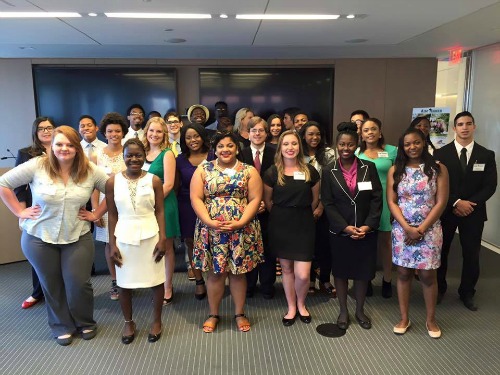 On June 10, 2015, Foster Care to Success (FC2S) gathered with numerous supporters, partners and friends in the heart of Washington D.C. to recognize our 2015 Aim Higher Fellows.
Each of the 27 students honored during the reception represented the promise and potential in the 3,000 students across the country who received FC2S funding and support this year. The 2015 class of fellows represented 15 states and this year's group included eight FC2S Scholarship students.
The jam-packed evening kicked off with a networking mixer where the fellows had the opportunity to interact with FC2S partners.
A formal presentation followed where, one-by-one, each fellow introduced his and herself complete with a catchy yet powerful one-liner about the impact and significance of Aim Higher.
FC2S dedicated a special portion of the evening to recognize the following partners who helped make the Aim Higher Fellowship possible:
Alliant Credit Union          The Walter S. Foundation
Marymount University          Southwest Airlines
Reed Smith LLP            Ross Stores
Various speakers, including Yali Lincroft of the Walter S. Foundation and Kim Ball of Alliant Credit Union, engaged the crowd around foster care issues, creating multiple pathways to success for students and the role programs like Aim Higher play in ensuring postsecondary readiness and success for our nation's young people.
And what better way to wrap up the festivities than showcasing the diverse talents and gifts of the Aim Higher fellows?
Students captivated the audience in a series of performances including traditional dances, spoken word and singing.
FC2S extends an enormous thank you to everyone who came out to support our 2015 Aim Higher fellows. Your continued support is invaluable!
Thank you to all whose contributions enriched the 2015 Aim Higher experience
Abrams Communications
Allison Gallagher Photography
Alpha Kappa Alpha Sorority, Inc.
Coble Consulting Inc.
Center for Community Change
Creative Read, Inc.
InSight Telepsychiatry
Robin Nixon, National Park Service
Stephanie Simpson
Studio Up
American Legacy Foundation
The National Center for Housing and Child Welfare
The Sentencing Project