Are Male Students Getting Left Behind When They Enter the Workforce?
More than a third of wives earn more than their husbands, up from 23.7 percent in 1987, according to the Bureau of Labor Statistics (BLS), which also reports that the unemployment rate is higher for men than it is for women. Why has this happened? Can it be simply explained away by the recession? According to some experts, education may be a big reason for the difference in salary and job opportunities.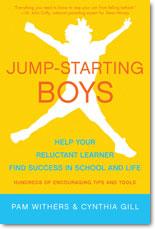 "The transition from unskilled to skilled labor demands more education and training, but worryingly, the skilled-labor sector is seeking skills not traditionally valued by men," said Pam Withers and Cynthia Gill, authors of the new book Jump-Starting Boys: Help YourReluctant Learner Find Success in School and Life. "Men suffered roughly three-quarters of the job losses between 2008 and 2010."
Withers and Gill argue that education is key to male students entering the workforce successfully, as college and post-secondary career training provide them with the skills that employers need in their employees.
In their book, Withers and Gill provide messages that foster parents, social workers, and independent living coordinators can share with their sons/ clients to help them choose to prepare for the workplace with better education.
Today's workers need more education. "Not only are they competing against females, but against newcomers whose attitudes (not just aptitudes) will be compared closely to theirs," said Withers and Gill.
Schools typically haven't kept pace with training kids for what the workforce needs. Besides steering male students to extracurricular activities that will help them build their resumes, foster parents, social workers and independent living coordinators need to guide them to the best teachers and lobby on their behalf.
The workplace has changed. "Workers need to be prepared not only to change jobs, but to change careers several times in their lifetime, and college graduates are best positioned to do this."
The type of worker in demand has changed. In their book, the authors recommend that foster parents and coordinators can help their male students be getting them involved in volunteer work or jobs that entail working with people….Restrict his time on electronic gadgets. Anything that involves communicating, working with others, and thinking abstractly is important." They also recommend helping to instill collaboration and teamwork skills and being able to work well with a diverse group of people.
Men and women bring different approaches to the table. "Knowing this allows our sons to present themselves to employers in the best light, and to vigorously pursue working on any shortcomings."