Chelsea M. carries the flame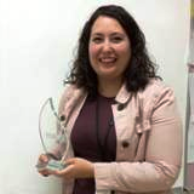 Chelsea (B.A. English Education, BYU-Idaho, 2012) was an FC2S Aim Higher Fellow last summer, and the experience gave her just the boost of confidence she needed to start teaching her career as a middle school language arts teacher. Chelsea and about 20 other college students from foster care spent two weeks in Washington, D.C. learning how to become effective messengers to their peers about what it takes to succeed in postsecondary education.
Chelsea has almost completed her first year of teaching. As a new instructor, Chelsea sometimes questions her methods and worries about how well she's doing, but recently she was honored as her school's employee of the month with the "Passing the Flame" award.  "On days when I feel like nothing has gone right, I'll have a student come up and tell me I'm their favorite teacher or I'll have a breakthrough with a student who has been struggling.  It's surprising how much power and influence I have with them, and every day I try to make sure I'm using it in a positive way."
Each year, Aim Higher works with exceptional students like Chelsea.  We're very proud of every one of them!
Tomorrow, meet Lavonte.