Congratulations to Given Kachepa, D.D.S.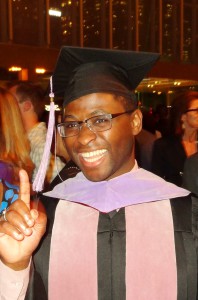 FC2S proudly says congratulations to Given Kachepa for receiving his Doctor of Dental Surgery May 27, 2015 from Texas A&M University Baylor College of Dentistry!
Given's unforgettable journey is an excellent example of how determination, resiliency and hard work coupled with a caring, supportive community can help foster youth not only receive a postsecondary education but become successful young professionals.
At just 11 years old, Given came to America as a victim of human trafficking before being taken in by a loving family. Through hard work and a passion to help his family back in Africa, he graduated high school, completed college and is now a dental surgeon with the hopes of returning home to serve those in his homeland of Zambia.
This young man's incredible story of adversity and triumph shows why it's necessary to continue advocating on behalf of thousands of young people across the country.
FC2S is proud to have served Given along his pathway to success and we wish him all the best as a dentist!