Damien S., following in the footsteps of Jacques Cousteau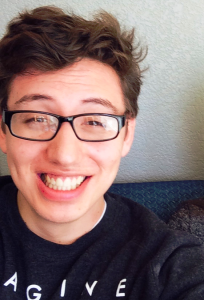 AIM HIGHER –
Damien says that the best job title he ever had was "High School Explainer" at the San Francisco Exploratorium.  He got to run hands-on science demonstrations for children and families. "They would ask, 'What's this?' and I would be able to break it down for them.  I blew their minds and they'd be so happy.  I loved that feeling, because as a foster kid and new kid in school I always had to wait for other people to explain things to me."
Damien is a Marine Biology major at California State University-Monterey Bay.  His dream is to explore underwater habitats and perhaps one day introduce these environments to eager youngsters in a setting like that of the Exploratorium.
Damien is passionate about music, and in his spare time he enjoys discovering new bands and artists. At the moment, he's also learning to play the guitar to gain a deeper understanding of what goes into creating great music.
Tomorrow, meet Sindy.