Estakio Beltran, aiming for national office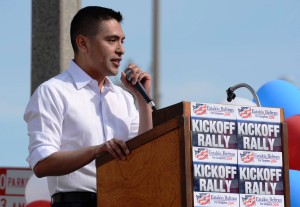 AIM HIGHER –
Estakio Beltran exemplifies the vision of theFC2S Aim Higher Program.  If you Aim Higher you can ACHIEVE HIGHER.
From a youth spent in more foster and group homes than he can remember, Estakio went on to attend Gonzaga University in Washington State on  scholarship.  He took advantage of every opportunity offered him, including social service, leadership, study abroad – and the Foster Care to Success summer internship when he first set foot on Capitol Hill.
After college Estakio moved to Washington DC where he worked for seven years in the offices of Washington Senator Maria Cantwell and California Congressman Dennis Cardoza.
Estakio is aiming for higher impact- today he is a Congressional candidate for the 4th District of his home state of Washington.  A defender of the people from the community from which he comes, we wish him luck and know that if he is determined he will achieve this goal.
Tomorrow, meet Cody.