Fanta K., boldly facing a new future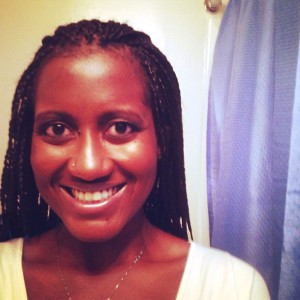 AIM HIGHER –
When Fanta arrived in the U.S. from Sierra Leone, the Maryland winters shocked her. "I came in June, but then around October the weather started changing. It was too cold!  I didn't think I would be here for that long," she says. Among the things Fanta especially liked about her new country were the structure of the buildings and her new elementary school, "The school looked different than the pre-school back home. I loved the fact that we didn't have to wear uniforms." She did struggle with English, but watching television helped her learn the language.
Currently Fanta is a student at Prince George's Community College. She would like to transfer to Bowie State University or the University of Maryland. Her dream job after college would be a position as a nurse practitioner. She already works as a nursing assistant at a senior citizen community.
When not studying or working, Fanta enjoys bowling, reading-especially romance and history books, and modern dance. She wants people to know that she never gives up, doesn't take no for an answer, and will always work to find alternatives.
Tomorrow, meet ……………………………