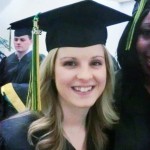 Amanda Metivier spent three years in foster care before aging out, and going on to receive a Bachelor's (2008) and Master's (2012) degree in Social Work from the University of Alaska Anchorage. Amanda has been a foster parent to teen girls, and is coordinator and founder of the advocacy organization Facing Foster Care in Alaska (FFCA), as well as Youth Education Coordinator for the ETV Program for Alaska.
Amanda received the Foster Care to Success Scholarship while working toward her Bachelor's Degree, and the Casey Family Scholar's Graduate Scholarship while in her Master's Program. Read about her passion to make change for youth transitioning out of foster care, and personal journey below.
My goal is to give back to foster youth, to make it a little easier for them to work toward success. I feel that I was lucky to have had one placement while in care, and lots of people looking out for me, helping me work toward independence, but it wasn't always easy. I dropped out of high school upon entering foster care because I was so far behind in school and didn't have confidence in my ability to catch-up. I was discouraged and didn't see much hope for the future.
My caseworker and foster parents pushed me to complete school. This gave me a new found sense of self-confidence. College was a dream I never thought possible, but I was encouraged to apply anyway. I was accepted to the University of Alaska Anchorage, and needed to make a decision about my future. What did I want to when I grew up? I had no idea…
I attended a meeting, where the state's Independent Living Program was working to create a youth advisory board. I met other foster youth who were in the same boat as me. We were all pretty worried about making the transition to adulthood and what we would be become. We decided to step things up and become our own organization. We adopted the name, Facing Foster Care in Alaska (FFCA), and I served two terms as President. We grew into an organization of over 300 foster youth and alumni ages 15-24 throughout the state of Alaska. 10 years later, we are a non-profit organization that provides training to foster youth about their rights, allows foster youth an opportunity to share their story and provide training to child welfare staff and allies, a network of peer support throughout the state, and we have helped pass major foster care reforms in Alaska.
Through my work with FFCA, I recognized what I wanted to do with my life. I wanted to give back to the system and people that gave so much to me, so I declared my major as Social Work. I wanted to be the kind of Social Worker that focused on Social Justice and increasing opportunities for the disadvantaged. Today, I am the Statewide Coordinator of FFCA. I have the opportunity to teach youth how to be advocates, develop skills as leaders, and inspire them by sharing my personal story.
FFCA has accomplished so much, that I can't help but brag about the importance of the youth voice and what it can accomplish. Here's a list of all the incredible things we have helped to achieve.
Extended foster care to 21, and allowed youth the option to re-enter foster care until age 21.
Added two regional Independent Living Program staff to the four statewide.
Increased funds for foster parent recruitment.
Launched a mentoring program for older foster youth.
Won freedom of speech rights for foster youth.
Won a suit to allow children on under 21 Medicaid to receive medically necessary orthodontia.
Launched a discount clothing program foster families.
Increased state tuition waiver and ETV Funding Support.
And much, much, more!
FFCA has given me a sense of hope for the future, and pride in myself. I love being able to work with foster youth and alumni.
After advocating for increased funding and support for foster youth attending college, I took a newly created position with the University of Alaska Anchorage, at the child Welfare Academy. In addition to my work with FFCA, I'm currently the Youth Education Coordinator, and I work with foster youth enrolled in higher education. I work to help manage their ETV and Tuition Wavier funding, provide case management, help incoming students prepare, and act as an overall support to foster youth in college throughout the state.
During my time in college, I had a wealth of support from the Foster Care to Success Foundation. The funding support, care packages, and caring staff were a constant sense of encouragement. I credit much of my success to those at Foster Care to Success who have helped me so much!
Read more about Amanda here:  University of Alaska article and Casey Excellence for Children Award announcement.