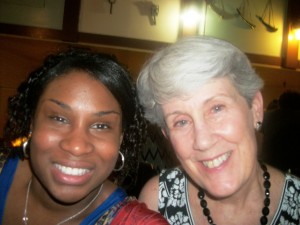 Faith and Kathy were matched in Foster Care to Success' vMentor Program, the predecessor to the Academic  Success Coaching Program in 2008 and have formed a close relationship that is important to both of them.  Recently they had the chance to meet, and each of them wrote to tell us about it:
Kathy said:  I've been mentoring Faith online for several years and, although we've communicated about everything from school, money, and work to relationships, our spiritual lives, and hopes for the future, we had never met face-to-face.  Last month she flew to my hometown, Washington, D.C., to present a workshop on foster care issues at a conference.  All of us need someone who is "there" for us when we have something to celebrate, need a shoulder to cry on, or a hand stretched out to help.  Faith and I had discussed permanency before, but now that I've met her, I know that she's someone I want to know for a lifetime.  She's an amazing young woman, and I'm proud to be her mentor.
Faith said: When I think of Kathy, she is not just a mentor, but she is a part of my family and I hope that she will forever continue to be a part of my life.  When I first met Kathy through the former vMentor program, it started off as your typical mentor-mentee relationship. vAs time went on I found myself opening up more and more to her.  I found myself at a point where I felt like I could talk to her about anything.  One thing I like so much is that not only does Kathy listen but she makes sure that she gets an understanding first before offering her wisdom on whatever the situation may be.  To some that may be such a simple thing but it's a something that I really appreciate.  Meeting her for the first time when I visited Washington, D.C. for a conference was a moment that I will never forget.  I finally was going to get a chance to meet and spend time with Kathy face to face…it felt like a dream come true…and it was. Once we met and began talking, it seemed as if time flew and before I knew it, it was time to say good-bye.  Kathy is such a beautiful person inside and out and I'm thankful not only to have her in my life as a mentor but as a part of my family.
For more information on how to join our Academic Success Coaching Program and make a relationship with a young person such as Faith, click here.