Gary L. will treat children and make them laugh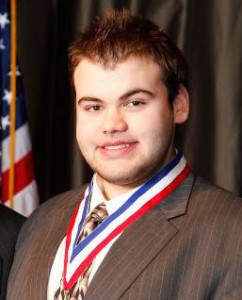 AIM HIGHER –
Gary is currently studying a combination of Psychology, Natural Sciences, and Nursing at the University of Alaska-Anchorage. He will graduate with his BA in 2017.  He dreams of becoming a nurse practitioner for Children's Services, and perhaps sharing his expertise as an instructor at the University of Alaska.  His goal is to review the medications of foster youth in the state of Alaska and ensure that each child and youth gets appropriate medical care and treatment.
As an Alaskan, Gary has experienced extreme cold temperatures.  He says the coldest he's ever felt is -65 degrees.  But, he says, Alaska is beautiful, and he loves to sled and ice skate.  He has indoor talents as well – with his skill at math, he excels at card tricks and can find your card in any deck!
Tomorrow, meet Tyler.