[Guest Blog] Making Time to Show Kindness
"Now!" "Mine!" "No!"
These are three lovely words that I hear frequently as the mom of a 4 year old and a 1.5 year old. Let's face it: Kids are selfish, and the truth is, we all are. Attempting to fight this selfishness, I resolved to serve more with my kids, and this resolution has led me to start an organization called The Family Service Club.
Our mission is to provide ideas, resources, and community to empower families to serve together. My personal goal is to do at least one service-related activity per month. We brought brownies to firefighters, valentines to retirement homes, and Easter baskets to cancer patients.
Waking up with unexpected cheerfulness, my son gets super excited for service days. This month, we are holding a donation drive for teenagers in foster care, and I'm really excited about it. Even though we don't foster any children, as a mom, I hate the idea of any child struggling. If I can take my son to pick out a backpack that might be an encouragement to a child in foster care while also helping my son to be mindful of others, you can bet I will be on my way to Target.
Honestly, our efforts to serve haven't yet curbed the sibling rivalry or the desire for instant gratification in our home, but I'm hoping that as we continue to make service a priority, all of us will start showing more compassion every day.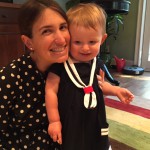 Kellie Van Atta is the founder of the Family Service Club. She teaches High School English and lives in California with her husband and two kids. If you'd like to know more about her organization, please check out www.familyserviceclub.org.
—
Interested in contributing to our blog? Contact us to learn more: comm@fc2success.org