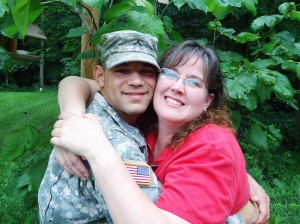 This month's hero is Lisa Johnson, pictured here with her foster son Josh.
There are people who are born nurturers and those who learn it from others. Lisa Johnson is both. You wouldn't know it by her official bio, however: a retired longtime member of the Minnesota Army National Guard and current director of programming for Restorative Justice of Northwest Wisconsin. But you would know it after spending five minutes talking to her. Lisa and her husband, a deputy sheriff, have taken in over 20 foster kids spanning 16 years. Their first one, Joshua, arrived at the age of eight, stayed for 10 years and has recently returned to the family home at the age of 25. Perhaps it's because, as Lisa says, "When you leave us, you haven't left our family. You have two families now."
Lisa is a firm believer in reducing the number of homes a child in foster care is placed in, so most of the children in her care were long-term. She says many didn't leave until they aged out, or headed to post-secondary education or the military. "We realized the importance of keeping them long-term, figuring out what kind of love and instruction they needed in order to be successful. "
Lisa Johnson became acquainted with Foster Care to Success when Josh was applying to colleges. Although he received a football scholarship to a liberal arts college, he needed additional funding – which came in the form of a FC2S scholarship. Josh didn't graduate, but according to Lisa, "Foster Care to Success has been very supportive of him over the years. And the door is always open for him to go back to school." Lisa's family includes daughters, ages 11 and 13, who are "very compassionate and mindful of other people's feelings and needs" according to their mother.
Lisa learned about foster care from her mother who took in pregnant teenage girls in the 1960s and kept them until they gave birth and moved on. "I don't remember not having foster kids in the house," recalls Lisa, "and we were the home that welcomed people into our lives." Her own daughters have had a similar experience as their former foster siblings return for family dinners and holidays. It isn't hard to believe that a new generation of foster parents is growing up in the Johnson home at this very moment.