We couldn't choose just one hero for July, and if you knew the 2013 Aim Higher Fellows, you would know why. In early June, a group of 22 nervous college students gathered in Washington, D.C. as the inaugural Foster Care to Success Aim Higher Fellows. No one knew each other. Many hadn't been to Washington before, some not even a big city before. After three weeks, they left Washington as a close group of smooth talking presentation whizzes and friends.
That is why they are our heroes for July 2013. Each fellow took their fears in stride and made a huge effort to get to know each other and to absorb the Aim Higher training. They took advantage of the city and explored, learned new things, saw the sights, ate foods they'd never tried before, and lived life to the fullest.
Aim Higher is a peer-to-peer mentoring program that seeks to improve college readiness for foster youth who are still in high school by tapping the experiences and unique perspectives of successful FC2S Scholars. The program is designed to help foster youth gain a better understanding of the differences between high school and college and to develop the academic and life skills they need to graduate.
This new program is built around 22 carefully selected FC2S upper-class college students known as Fellows. Every year, a new cohort of Fellows will spend three weeks in June in Washington, D.C., participating in workshops and training sessions to hone their communication and presentation skills and learn how to share the FC2S Academic Success Model with foster youth in their home states.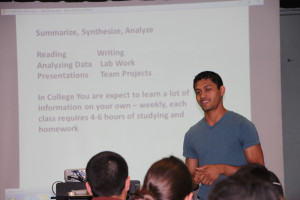 Over the course of the coming year, Fellows will present at conferences and meet with foster youth, social workers, educators and foster parents. They'll discuss time management, goal planning, study techniques and other important life survival skills with the younger students. Fellows will share their experiences to help teens understand the role of a college student. They also will emphasize how much hard work is required to progress and how earning a diploma can change a life.
The 2013 Aim Higher Fellows have inspired the Foster Care to Success staff with their courage, intelligence, kindness, and zest for life. Watch out for these young professionals. They will inspire you as much as they did us, and they are going to take over the world.
Meet the Students
Alabama
David Petty is a rising senior at the University of North Alabama. He is studying social work.
Aurora Smith is a rising junior at the University of Alabama at Birmingham where she is studying early childhood and elementary education.
Arizona
Kameron Mark plans to receive her associate degree from Pima Community College in May 2014 and then transfer to Arizona State University to pursue a bachelor's degree in social work.
Antonio (Tony) Ramos is a May 2013 graduate of Paradise Valley Community College where he received his associate degree with honors, with an emphasis in criminal justice. He is considering Arizona State University to further his studies.
Colorado
Margaret (Meg) Ewing is a May 2013 graduate of the University of Colorado in Colorado Springs where she received her bachelor's degree in sociology.
Cristhian (Cris) Miranda is a rising senior at Colorado Mesa University where he is on the pre-medical track and is studying musical education.
Maryland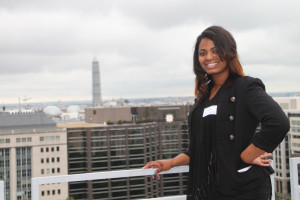 Nia Garrett is a rising senior at McDaniel College with a major in psychology and minor in gerontology.
Evelyn Harris is a rising senior at Morgan State University, studying elementary education.
Keven Maclin is a rising senior at the University of Baltimore where he is studying corporate communications with a minor in business management.Missouri
Alexandria (Alex) Garcia is a rising senior at Southwest Baptist University where she is studying nursing.
Hailey Hankins is a rising junior at William Jewell College. She is majoring in elementary education with a minor in psychology.
Drew Hilgendorf is a rising junior at Southeast Missouri State University, majoring in sports management and minoring in business administration.
Ohio
Jamaal (Jay) Hamler is a May 2013 graduate of Central State University, with a Bachelor of Science in Psychology.
Alden Morris is a rising junior at Ohio State University, studying political science.
Nautica Hereford is a rising junior in the Honors Program at Wright State University, going for a Bachelor of Science in Psychology.
New York
Brittany Harris is a rising senior at Mercy College, studying social work.
Christina McGee is a rising junior at Hunter College, studying anthropology with a minor in cultural studies.
Daybelis Ramirez is a rising senior at Marist College where she studies social work and psychology.
North Carolina
Natasha Maddox is a rising junior at Western Carolina University, studying social work with a minor in psychology.
Kashawn McRavion is a rising senior in the Honors Program at North Carolina A&T State University, studying social work with a minor in philosophy.
Sandra Witherspoon is a rising junior studying special education at East Carolina University.
OREGON
Chelsea Miles graduated from Brigham Young University-Idaho in April 2013 with a degree in English/journalism education.