Miguel O. was honored for his expressive writing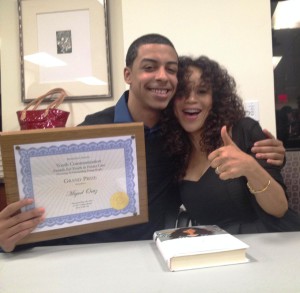 AIM HIGHER –
Miguel is a high school senior from Brooklyn, NY and grand prize award winner of the 16th annual Awards for Youth in Foster Care.  Over 50 NYC foster youth submitted entries to this contest honoring excellence in creative writing. 
Miguel's essay entitled, "Hurting with No Way to Deal," speaks intimately on the topic of life control and how "everyone is the author of their own story."  "When a kid punches a wall or steals some food," he explains, "He/she is not lazy.  They are hurting without having a way to deal."
The event was sponsored by Youth Communication, which helps marginalized youth strengthen the social, emotional and literacy skills they need to succeed in school work and life.  Presenting the award to Miguel was Academy Award nominated actress Rosie Perez. Rosie, who was placed in a group home at the age of three, chronicles her life experiences growing up in the NY foster care system in her  book, Handbook for an Unpredictable Life. Rosie used the opportunity to share an excerpt from the book, drawing on the challenges she faced growing up "in the system" and the personal triumphs that followed once she was able to become the author of her own story – something we know Miguel, too, is well on his way to achieving!
Tomorrow, who will you meet?