Nina W., in college and proud of it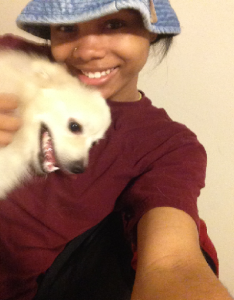 AIM HIGHER –
Nina didn't always expect to go to college. In high school, she struggled with depression, and with finding a place to live. By her senior year, though, she started rethinking what she wanted from life and recognized the importance of a college education. She now attends Indiana University of Pennsylvania with a major in Education. She will graduate in May 2015, and plans on teaching science to fourth through sixth graders.
Like most college student from foster care, Nina knows the difficulties of maintaining a budget that allows her to pay for groceries, a cell phone – and a dog.  She is grateful for her scholarship, and for the federal funding she receives including the Education and Training  Voucher (ETV) which she gets from the state of Pennsylvania.
Nina's dog Penelope is her constant companion, whether they're playing tug-of-war or Nina is studying while Penelope sleeps at her feet.
This is the third year Nina has received an FC2S scholarship, and we look forward to celebrating her graduation next year.
Tomorrow, meet Philip.