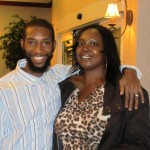 All Ja'Nelle Earle ever wanted was a "regular family."  "You know," she says, "like a perfect TV family with a stay-at-home mom."
Ja'Nelle has never had it easy.  In foster care by the age of 10, living with her grandparents  because of her mother's unwillingness and inability to care for her, Ja'Nelle dreamed of a regular family.  By 2000, studying social work at San Diego State University, helped along with a scholarship from Foster Care to Success and a mentor named Joan who sent her postcards, packages and a lot of love, Ja'Nelle dreamed of a regular family.  Sadly, Ja'Nelle did not finish college.  Shattered by her grandmother's sudden death due to medical malpractice, she took her young son across the country to start a new life in Philadelphia.
There she married and had three more children.  She projected the image of stay-at-home mom of a regular family, but the marriage was rocky and the demons of her past came back to haunt her.  When her husband left  Ja'Nelle spiraled into alcoholism and despair, but when he threatened to sue for custody of the children she pulled herself up through sheer strength of will and realized she was not living the life she'd dreamed of for so long.  She sought counseling, went back to school online, and got a part-time job as a home health care provider.
On December 19, 2011, Ja'Nelle Elizabeth Earle received her bachelor's degree in Health and Human Services from Ashford University – magna cum laude, no less!  "My diploma," she says with understandable pride ringing in her voice, "is framed on the living room wall."
But the story doesn't end there.  We are saluting Ja'Nelle as our November 2012 Foster Care Hero because she reached out in her community to help another family in need.  Last summer, when a neighbor's destructive lifestyle threatened her children and the Department of Human Services stepped in, Ja'Nelle stepped up.  Certified as a foster parent, today Ja'Nelle and her fiancé BJ are the loving caregivers to not just four but eight children between the ages of one and 14.
Ja'Nelle is very proud of each of her children, but the progress 11-year-old Cyrus has made under her compassionate care stands out.  Last year, he spent a lot of time in the principal's office.  This year, he spends a lot of time in the hall – because he's a Hall Monitor.
This Halloween, as Ja'Nelle helped eight children into their costumes and prepared a special Halloween dinner, she couldn't help but think, "I've finally got my regular family."