Artists Across United States Knit for Foster Students
Contact: comm@fc2success.org, 571-203-0270
ARTISTS ACROSS THE UNITED STATES KNIT FOR FOSTER YOUTH.

Scarf donations accepted between September 1 and December 15
Sept. 17, 2013, STERLING, Va. – Starting in August, knitters across the country began crafting scarves for the Red Scarf Project, which sends care packages to college and training program students who have experienced foster care. Every Fall, Foster Care to Success (FC2S) relies on the red scarves to fill Valentine's Day care packages that are mailed to its students.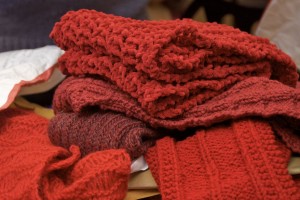 FC2S began mailing its students Valentine's Day care packages in 2005, and, in the first seven years, delivered over 20,000 red scarves to foster youth in colleges and training programs across the country.
"Every year, we are awed by the works of art that are so generously created for our students," said Eileen McCaffrey, the executive director of Foster Care to Success. "The handmade red scarves in each of our Valentine's Day care packages become treasured keepsakes that our students wear for years."
FC2S welcomes donations of red scarfs between September 1 and December 15. Scarves should be approximately 60 inches long and 5 to 8 inches wide. All scarves must be in a shade of red or in similar tones or designs, such as burgundy, cherry, russet, red stripes with other colors, or multicolor hues including red. Additional scarf guidelines can be found by visiting: https://www.fc2success.org/how-you-can-help/red-scarf-project/.
"Foster Care to Success gratefully thanks the thousands of knitters and crocheters worldwide who make our Red Scarf Project such a success," said McCaffrey.
The Red Scarf Project is endorsed by Interweave Knits, The National Needle Arts Association, and the Lily Chin Signature Collection.
For a student's perspective on receiving scarves, visit: https://www.fc2success.org/redscarfemke/.
About Foster Care to Success
Foster Care to Success (FC2S) is the oldest and largest national nonprofit organization working solely with college bound foster youth. Since its founding in 1981, FC2S has helped students navigate the tricky waters of academia, understand the importance of personal fiscal responsibility, determine achievable career goals, and create networks of friendship and support. The organization, based in Sterling, Va., has helped more than 20,000 students since its founding. For more information, follow us on Twitter @FC2Success and on Facebook.