Ronal J., mother and future police officer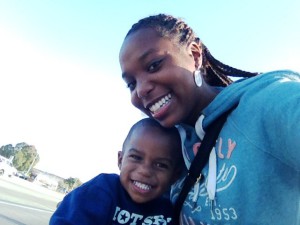 AIM HIGHER –
Ronal enjoys making up stories with her two-year-old son. Like many mothers, she reads to him, especially superhero stories with Spiderman, Superman, and Batman. However, they go beyond reading the words on the page. She makes up her own story about the heroic actions of the men on the page, and then her son tells his own tale.
Now Ronal focuses on her son and school. However, in the past Ronal was homeless and living on the streets. She survived and flourished, because there were people that believed in her. "I felt like I had some potential. Everybody always had high expectations for me. I'm much more than I think I am."
Once she graduates from Los Angeles Trade-Technical College with her Associate's degree in Correctional Science, Ronal wants to go to the Police Academy and become a member of the L.A. Police Department.
FC2S is proud to help make Ronal's dreams a reality.
Tomorrow, meet Damien.