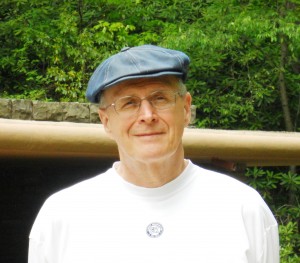 This month's hero is Jonathan Elliott.   Jonathan reads scholarship essays every spring in our Sterling office, and for the past two years has been a very active Academic Success coach, supporting male students and offering them the compassion, encouragement and – sometimes – stern fatherly voice these young men need to succeed.  When we told Jonathan he was our September hero, he wrote this piece.  We could not have said it any better, so here, in his own words, is Jonathan Elliott, our September 2012 Foster Care Hero.
Why I do What I Do
I guess the only way to say it is that I like to see young people who had or have very little hope turn it around and feel like they have a future. I became a Big Brother in my late 20s, at which time I was a manager for a trucking company. Even though I worked around 60 hours a week, I wanted to make sure, to the best of my abilities, that at least one child would find the hope and encouragement he needed to carry on and succeed. Last year I received an email from my Little Brother. He now teaches Calculus at a major university in the Midwest. He wanted to just thank me for not giving up on him. When we first worked together, he seemed to want to push me away. Young people who have felt disappointed are often suspicious that anyone wants to really do anything for them.
After a stint in the Marine Corps, I was motivated to go to college on the G.I. Bill. Even on the G.I. Bill I had to drop out of school twice to make enough money to go back. But I always knew that I would go back. Over the years, education became very important to me. During times when I couldn't figure out what to do with my life, I always went back to school. I felt safe there. I felt that I always had a future as long as I increased my education. As a result, I went on to post over 350 semester hours of course work, including a B.A. degree in English, a full teaching assistantship in English at Purdue University., an M.B.A. in Finance/Economics, M.S. in Internal Auditing, M.S. in Acquisition Management, Ed.S. from The George Washington University in Human Resource Development, and two associates degrees in General Studies and Science.
Eventually I made my career as a financial advisor in the U.S. Department of the Treasury, and I mentored approximately forty interns over the years. Nearly half of them still stay in touch. As it turned out – and I never knew this about them at the time that I hired them – many of them came from broken homes or blue-collar homes.  They had something to prove to themselves, and I wanted to help them do so. That's what I like about the Foster Care to Success program. Young people who have had the misfortune to be born into a situation well beyond anything they could control, take charge of their lives and prove to themselves that they have value. It's just that in some cases they need a person, or persons, there to remind them, or a little help with homework, or preparation for a test that a loving parent in a middle class household can provide as a norm.
And maybe, just maybe, I can be that someone who will help them believe that they have some value.