September Hero of the Month – Keith Hefner
Shining a spotlight on an important topic that most people do not think much about is heroic, and that is why Keith Hefner is Foster Care to Success's Foster Care Hero of the month for September.
Keith, a recipient of the prestigious MacArthur Fellowship, is a winner of the Luther P. Jackson Award for Educational Excellence from the New York Association of Black Journalists. He is the executive editor or co-author of several dozen Youth Communication books and programs.
Keith is the founder of Youth Communication, which publishes  Represent Magazine. Represent "gives inspiration and information to teens in foster care while offering staff useful insights into teen concerns." The magazine, written for both foster youth and the foster parents, social workers, educators, counselors and agency employees who care about them, provides teens who've experienced foster care with both practical information and the inspirational stories of people who've been in their shoes.
Most of the magazine's articles are written by youth who've experienced foster care. "Our readers are our writers," said Hefner. The teens who write for the magazine are inspired to write because "They've seen the magazine and are moved by the stories." After submitting their article drafts, the teen writers continue to work on their articles with staff editors who develop a teaching relationship with the young writers. Hefner pointed out, "If your goal is to make an impact, then it has to be well written."
Although written by and for students, Represent's primary audience includes those adults who work with youth in foster care, such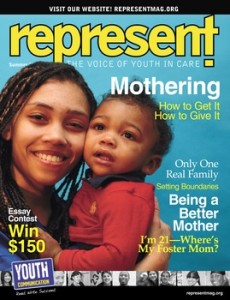 as staff counselors, foster parents, and agency workers. Foster youth "have to have the magazine given to them by an adult they trust," said Hefner. "When we asked kids what's most important about the magazine, they say 'it makes me feel less alone.'" Adults read the magazine because it helps them understand the foster youth they work and/ or live with.
Hefner cites aging out of foster care, relationships with biological family, and coping with the effects of what put teens into care as perennial topics for the magazine. The increasing number of foster youth discharged to homelessness is an issue that he sees as an important topic that Represent currently covers and will continue to cover.
For all of the aspiring writers out there, Keith Hefner offers the following advice, "Be prepared to live a life of poverty. Writing has to be a passion, especially when print media is collapsing." He says there is a premium for good writing, so look for jobs that aren't in traditional writing fields, like journalism, and look for the organizations and trades that need good writers but aren't traditionally associated with magazines or writing, like public relations and insurance. He recommends writing your book on the side, if you have a book in you.