Sometimes it's not just about classroom learning.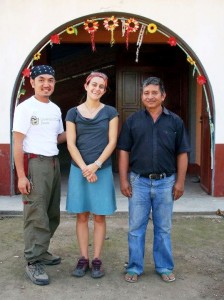 Recently Amy Hale, a senior at the University of Colorado, Denver, and seven other students from a variety of undergraduate and graduate programs traveled to rural Southwest Guatemala to study sustainable development and health care. We're proud to have been able to support her trip with FC2S Study Abroad Funding.   Here is what Amy has to say about her trip:
As a group we had two parallel objectives, the first was to study how people organize in the absence of a civil society and the other objective followed up with a rapid needs assessment that occurred in the Fall of 2011 in partnership with the University of Colorado Center for Global Health and one of the local banana companies, Agroamerica. This partnership aims towards the betterment of health for the community and the employees neighboring the Agroamerica plantations.
Our research gave us insight into the socio-cultural struggles that this community faces and the overwhelming link between health and environment. The community leaders that we interviewed in our research overwhelmingly noted the problems associated with the floods that come every year during the rainy months. The public health concerns that were associated with flooding included contamination of personal wells with human waste from unsealed latrines, numerous diarrheal diseases, and loss of productivity on personnel agricultural plots. As a group we were able to assess and analyze some of the public health and environmental concerns in these communities through interviews and analysis of field notes.
The basic step toward improving health at a population level begins with sanitation, drinkable water, hand washing and containing human waste. While these precautionary measures are second nature in developed countries, this field school experience was a glimpse into the lives of those who still struggle with these problems. Our experience was a reminder of the importance of the key factors in breaking the chain of illness as ways to prevent illness.
As a future public health practitioner, this experience made me reconsider all of my preconceived notions of global practices in public health in developing communities. I learned that sometimes it's not about achieving some sort of ideal model but first seizing at what is attainable and working from that point forward.
Well done, Amy!  Foster Care to Success believes that sometimes a student's most valuable education comes outside of the classroom, and Amy's experience is certainly proof of that.