Surprising Tip for Test Success – Have a Snack
Have you ever lost your focus or attention in the middle of a test? Has the information you spent hours studying flown out of your head never to return? Stefanie Weisman, author of The Secrets of Top Students: Tips, Tools, and Techniques for Acing High School and College, has a surprising tip for maintaining your concentration and retaining information during exams – eat a snack during the test.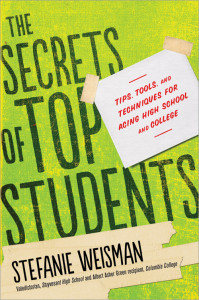 "Most nutritionists are concerned with the foods you eat outside the classroom, but they ignore an important strategy for getting better grades: consuming high energy snacks during the exam," said Weisman, who was an award-winning student in high school and college. "I would never have been a top student without this."
Of course, if a teacher forbids food and drink in the testing room, don't put yourself in jeopardy by bringing anything in. But, if you can comfortably bring food into the testing room, Weisman recommends the following to help you keep up your energy and do better on tests.
Apples aren't only for teachers and teacher's pets. With their high fiber content, apples pack a lot of energy inside their peels. Weisman recommends cutting up an apple before the test and putting them in a plastic bag.
Fruit leather, more commonly known as roll-ups or fruit strips, pack whole servings of fruit into an easily carried small package. Watch out for the roll-ups that are high in sugar. You don't want the typical sugar roller coaster ride of a burst of energy, followed by a crash.
What's more fun food play than peeling string cheese? Weisman recommends this good source of protein as easy to eat and transportable. "You can eat it in under a minute if you bite it instead of pulling it off in strings," said Weisman.
Fruit and nut bars also are easy to transport and good sources of protein. Like fruit roll ups, watch for the bars with a lot of sugar.
Do you snack during tests and exams? What foods help keep you going during tests?