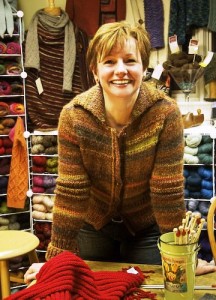 Some people are heroes behind the scenes.  Such is Norma Miller, knitter (or, "needle artist") and blogger extraordinaire. 
Seven years ago, the Foster Care to Success Care Package Program was undergoing a transformation from boxes of goodies mailed to designated students from their "Secret Santas" to a more structured, thrice yearly endeavor involving thousands of students, hundreds of volunteers, and donations from generous corporate and foundation sponsors.
FC2S had started a new tradition of sending students hand-knit or crocheted red scarves for Valentine's Day, and with over 2,000 boxes waiting to be filled, we needed SCARVES!
The word went out, and Norma was contacted by a fellow-knitter.  On January 12, 2006 she posted a blog entitled Seeing Red – In a Good Way.  As passionate about the needs of young people as she was about knitting, Norma wrote and wrote … and her blog followers read, responded and reached out in turn.  Their efforts worked a near miracle; in less than two weeks, Foster Care to Success got all the scarves we needed and 2,500 care packages went out laden with red scarves and Valentine's Day candy.
When asked why she felt so strongly about the Red Scarf Project, Norma replied, "I was a first generation college student myself, so I could relate to how they felt.  Plus, my daughter had attended a boarding high school and was about to start college when I first heard about the Red Scarf Project, and I fancied myself a bit of a 'professional care package sender.'  I knew how important care packages were to kids away at school, and the idea that a foster child, against seemingly all odds, was able to make it into college and yet probably had no family – even their former foster families in many cases – to go home to on break or to call when they had down times or things they needed – just doing it all on their own – really called out to me."
Today, Norma is busy with her profession as a CART (Communication Access Realtime Translation) provider, and she doesn't have as much time as she would like for other activities.  At the height of its popularity, however, her blog, Now Norma Knits, reached some 5,000 readers, and there has been no stopping these passionate needle artists and compassionate volunteers.
Thanks to their generosity and that of other knitters and crocheters across the country and even around the world, every year Foster Care to Success is able to send some 2,500 red scarves to college-aged foster youth in our Valentine's Day care packages.   If you'd like to find out more, or to contribute a scarf, click HERE.
Thank you for the scarf, again.  I've gotten one every Valentine's Day since I started in this program, and I love them all.  I tell everyone where I got them. I just say, 'oh, someone in my family knitted it for me.'  Margaret – NY
My care package just arrived!  Thank you for everything in it, and especially for the hand-made red scarf.  I know how much it meant to the person who created it, and how much it means to me.  Derrick – MD