"My life is much richer just by knowing her."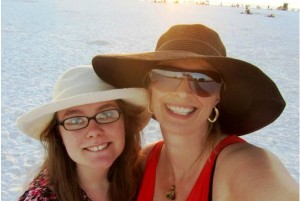 Morgan and Michelle are part of the Foster Care to  Success Academic Success Coaching Program.  The boundaries of this program state that meetings in person are not permitted; however, occasionally an exception is made for coaches and students with a longstanding relationship.  Here is Morgan's story of meeting her coach, Michelle, for the first time in February 2013.
Michelle and I had known each other for three years before meeting in person.  Thanks to Foster Care to Success, she was my mentor/coach.  Over the course of the three years, I would tell Michelle my struggles, before I would even tell my mom.  I guess in many ways, she is the mom I never really felt I had even with being adopted.  I like that Michelle has always been my rock in the storm.  I could always count on her to give me sound advice that allowed me to become the person I am today.
Finally, after three years of knowing each other through phone calls, texts, and Facebook, we made plans to meet on February 18.  I flew from Pittsburgh to Sarasota, Florida.  I was more nervous about the plane ride -I felt that I knew Michelle well and that I was safe.  We met outside the airport and my first thought was, "She is a lot taller than I realized." We spent four days together talking and exploring Sarasota.
Monday, we went shopping at Whole Foods and I got to try some new vegetarian meats that I had never even known existed.  We went back to her house and I got to play with Mango.  He is absolutely the most precious dog in the world.  We did a few more odds and ends throughout the day.  We ended the day watching TV.  We also found out that we both enjoyed watching all of the same shows.
Tuesday, we went to one of the Keys and explored the shops.  I found that Sarasota was very tropical and beautiful.  We ate lunch at a nice restaurant.  We then went to the Mote Laboratory Aquarium.  I convinced Michelle that she needed a membership pass.  I will admit, I was pretty proud of that.  I know from experience that having a pass allowed my husband Berquin and I to go to the zoo more times than either of us can remember.  At the Aquarium, Michelle and I saw one of the best sea lion shows that I had ever seen.  I also got to see a dolphin, my first ever.  One of my favorite parts of Mote was the fact that they had some preserved animals rather than plastic or fake animals.  I saw a giant squid for the first time, and I was terrified.  I added it to the list of things I never wanted to see in the wild! My absolute favorite part was to finally see a manatee.  They are indigenous to the Florida coast. The gift shop there was great.  We got tee shirts and a snow globe.  The snow globe is of manatees and is now on my nightstand.
Wednesday, we went to the beach to see the sunset.  It was my last day, so I played with Mango a lot and made sure to make the most of the time I had left.
Thursday, I headed home to Pittsburgh and my husband, who apparently missed me a lot.
I felt like meeting Michelle in person allowed for the final piece of our relationship to click.  We got to sit on the couch and drink coffee together.  We talked about whatever, and we did homework together.  It was like it was something we had always done together because we knew each other so well.  I miss her and Mango.  I can't wait to see her again and introduce her to Berquin.  I am so thankful that Michelle is such a huge part of my life.  I feel like my life is much richer just by knowing her.
Although most students never meet their coaches, or meet them only after several years of building a solid relationship, Morgan and Michelle are proof that online/telephone/text/facebook/Skype relationships can be real, valuable and permanent.   To find out more about coaching a Foster Care to Success student, click HERE.  If you're a student already in the FC2S ETV, NCReach or Scholarship Program, ask your Coordinator how to join this wonderful program!